Annual Shortbread Contest
We had a wonderful time judging the 2023 Shortbread Contest on Saturday, August 5th at the… 174th Annual St. Andrew's Society of Detroit Annual Highland Games at Greenmead Historical Park.
A very Big Thank you to the Judges' Panel: (Pictured)
2023 Shortbread Judges:
Christy Haradean, Shortbread Chair, Karen El Wood, Kelly Hemmerling, Kevin Nixon, Claudia Scott, Linda Sugars and Madison Sabo.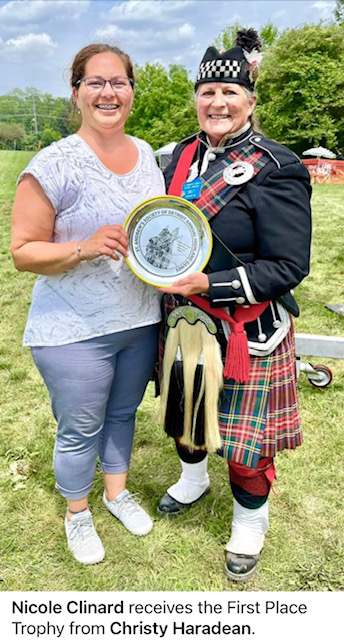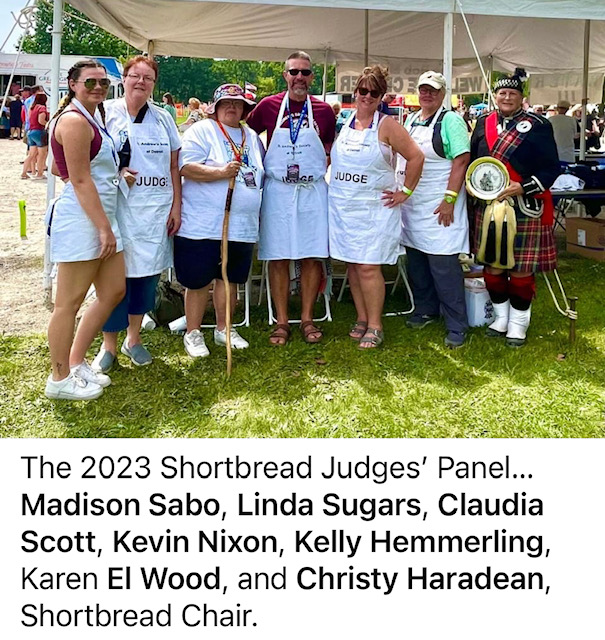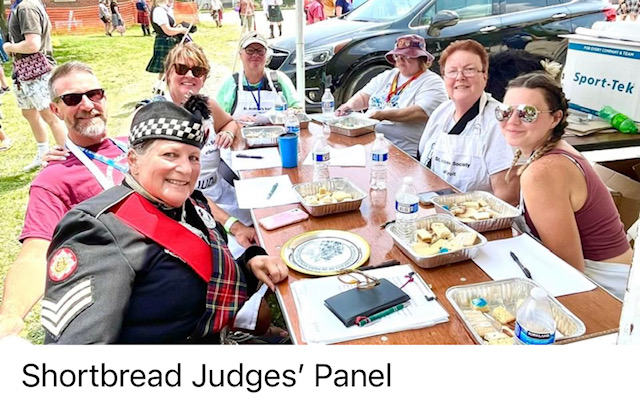 In Third place is:
   A Tie – Nancy Coates & Shirley Davidson
In Second place is:
   Kenzie Duncan
And Congratulations to our First Place Winner:
   Nicole Clinard
Here is Nicole Clinnard's Winning Recipe:  Trillionaire Shortbread
–Shortbread Layer
250g All Purpose Flour
200g Unsalted Butter
100g Caster Sugar
Blend by hand, press into 9×9 pan, Chill 30 minutes. Bake 20 Minutes at 325°
–Caramel Layer
200g Butter, cubed
3 Tbsp Sugar
3 Tbsp Golden Syrup
1 -14 oz can Sweetened Condensed Milk
Slowly heat to 225° to 230° while stirring. Pour on baked Shortbread. Chill 30 minutes.
-White Chocolate Ganache
1 10 oz Bag of White Chocolate Chips.
1/2 cup Heavy Cream
2 Tbsp Butter
Heat heavy cream just to a boil. Pour over white chocolate chips in a bowl. Let Sit for 1-2 minutes. Gently stir until melted. Add Butter 1 Tbsp at a time, stirring until melted. Pour over Caramel Layer. Chill for 1 hour. Sprinkle Pink Himalayan salt flakes, lightly on white chocolate.
The History of Shortbread
The story of shortbread begins with the medieval "biscuit bread".  Any leftover dough from bread making was dried out in a
low oven until it hardened into a type of rusk: the word "biscuit" means "twice cooked". Gradually the yeast in the bread was
replaced by butter, and biscuit bread developed into shortbread.
Shortbread was an expensive luxury and for ordinary people, shortbread was a special treat reserved for special 
occasions such as weddings, Christmas, and the New Year. In Shetland, it was traditional to break a decorated shortbread cake
over the head of a new bride on the threshold of her new home. The custom of eating shortbread at the New Year has its
origins in the ancient pagan Yule Cakes which symbolized the sun. In Scotland, it is still traditionally offered to "first footers"
at the New Year.
Shortbread has been attributed to Mary, Queen of Scots, who in the mid-16th century was said to be
very fond of Petticoat Tails, a thin, crisp, buttery shortbread originally flavoured with caraway seeds.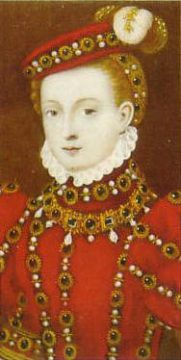 There are two theories regarding the name of these biscuits. It has been suggested that the name
"petticoat tail" may be a corruption of the French petites galettes ("little cakes"). However these traditional
Scottish shortbread biscuits may in fact date back beyond the 12th century.
The triangles fit together into a circle and echo the shape of the pieces of fabric used to make a full gored
petticoat during the reign of Elizabeth I. The theory here is that the name may have come from the word.
Shortbread is traditionally formed into one of three shapes: one large circle divided into segments ("Petticoat Tails");
individual round biscuits ("Shortbread Rounds"); or a thick rectangular slab cut into "fingers."