Our Entertainers for 2021!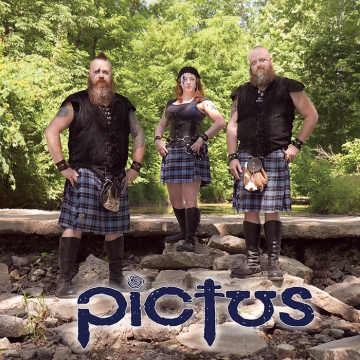 Ceilidh Performance Time:  7:15 pm
Highland Games Performance Time:  1:00 pm
Pictus has been thrilling audiences all over the country with their unique take on primal drums & bagpipes. You can feel the thunder of the war drums and hear the call of the great Highland bagpipes and let the music lift your spirits, stir your soul and speak to the voice of your ancestors. 
But Pictus is not simply a "bagpipe and drum band" for there are stories, tales and jokes to be told by Oengus Mac Og, the drummer & voice of Pictus. There is Irish and Scottish Highland dance provided by the energetic and beautiful Ceilidh Shillelagh.  there are Irish pennywhistle and original compositions by Tallisyn. So stand up, sound your barbaric YAWP! and be transported by Pictus!



Ceilidh Performance Time:  8:30 pm
Highland Games Performance Time:  2:30 pm
CrossBow is a high-energy Celtic band originating in Allendale, Michigan and has had the pleasure of sharing their distinct sound to a wide variety of audiences. The dynamic group initially met at Grand Valley State University as students and young musicians where they founded one of campus' first Celtic music organizations. While CrossBow can be heard at Irish and Scottish music festivals across the Midwest, much of the thrill in experiencing a CrossBow performance actually transcends the music itself. This excitement stems from the contagious joy and comradery shared between the players, and communicated directly with their audience. Apparent from the moment they hit the stage – these high-energy musicians naturally feed off of one another, creating a dynamic, wholly unique performance that shouldn't be missed.

Ceilidh Performance Time:  9:45pm; Encore 10:45 pm
Highland Games Performance Time:  4:00pm; Encore 5:00 pm
Stone Clover are the rock band born in an Irish pub that your parents warned you about. Upbeat high energy takes on traditional songs peppered in with their infectious original songs are sure to get the crowd moving and singing along. The band has been combining different genres with Irish traditional instruments and rock and roll tones to create a style they have dubbed "Paddy Slag".